Amerivespa
Since 1993, the Vespa Club of America has sponsored an annual motorscooter rally to promote scootering and VCOA membership.

Amerivespa 2013 will be held in San Diego, CA on June 27-30. For more information about this year's rally, check out the Amerivespa site and the Amerivespa Facebook page.
Past Amerivespa locations...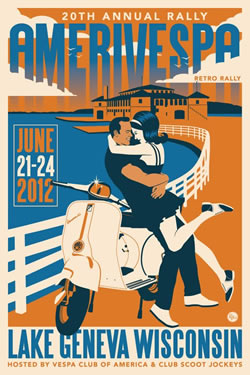 2012 (Lake Geneva, WI)
2011 (New Orleans, LA)
2010 (San Antonio, TX)
2009 (Los Gatos, CA)
2008 (Chattanooga, TN)
2007 (Seattle, WA)
2006 (Denver, CO)
2005 (Cleveland, OH)
2004 (Salt Lake City, UT)
2003 (Madison, GA)
2002 (Portland, OR)
2001 (Oklahoma City, OK)
2000 (San Diego, CA)
1999 (San Diego, CA)
1998 (Knoxville, TN)
1997 (Knoxville, TN)
1996 (Manitou Springs, CO)
1995 (Manitou Springs, CO)
1994 (Springfield, MO)
1993 (Springfield, MO)